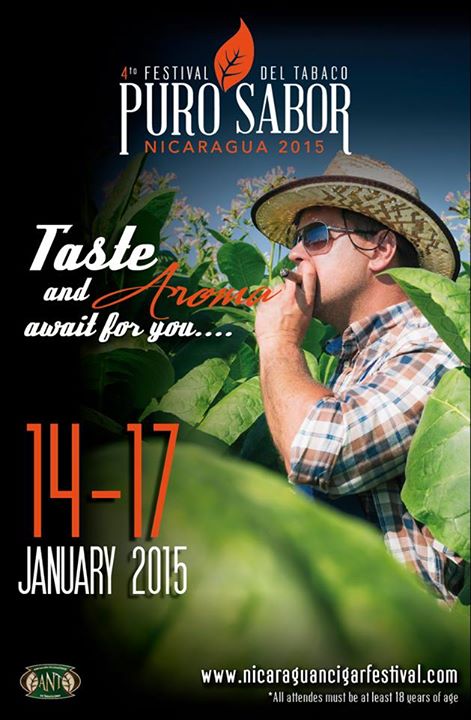 L' Asociación Nicaragüense de Tabacaleros (ANT) annonce la tenue de la quatrième édition du Festival del Tabaco Puro Sabor qui se tiendra entre les 14 et 17 Janvier 2015 à Managua et Estelli au Nicaragua. Le festival amorcera ses activités à Managua, capitale du Nicaragua et le gala d'ouverture se tiendra à l'hotel Crowne Plaza Terrace.
Le jour suivant, les invités seront transportés à Estelli, la capitale nicaraguayenne du cigare. Sur place, ces derniers seront reçus à la fabrique A.J. Fernandez's Tabacalera Fernandez S.A. pour le « lunch » et une visite guidée de la fabrique. Suivront, les visites des fabriques suivantes et membres de l'ANT: A.J. Fernandez, Tabacos Cubanica S.A. (Padrón), La Gran Fabrica Drew Estate, Fabrica de Tabacos Joya de Nicaragua S.A., My Father Cigars S.A., NACSA, TABOLISA (Oliva), J.C. Newman's PENSA, Plasencia Cigars S.A., STG Estelí (General Cigar Co.), Tobaccos San Rafael and Rocky Patel's TAVICUSA. De plus, les usine  ASP Nicaragua et GK Tabacos de Nicaragua  accueilleront aussi les invités pour une visite des lieux.
En soirée, la réception se tiendra au complexe récréatif Plaza Domingo Gadeda.
Au programme du vendredi, visite des fermes ASP, A.J. Fernandez, Plasenica, Nicaprosa and Padrón et repas à la ferme NACSA's Gualupe. Une activité de roulage de cigares sera aussi offerte aux invités. Le festival concluera en soirée vendredi sa programmation à Estelli par un grand gala et un encan. Samedi matin, retour des invités à Managua.
« Notre pays est maintenant reconnu internationalement pour la qualité de ses cigares. C'est grâce à ses sols fertiles, un climat idéal, ses sols volcanique ainsi que  des dizaines d'années de travail et de développement » disait Nestor Andrés Plasencia, president de l'ANT, dans le communiqué de presse du festival. "PURO SABOR est une opportunité unique de visiter une contrée unique, savourer ses meilleurs produits et cigares et faire des rencontres des plus intréressantes avec les intervenants de l'industrie du cigare Nicaraguayen ».
Chaque billet comprend les nuitées, repas, transports terrestres et ceux-ci sont offerts à des prix variant entre $700 et $850 dépendant des modalités et préférences d'hébergement et de certaines soirées.
Réservations et enregistrements à cette adresse: https://nicaraguancigarfestival.com/register-nicaraguan-cigar-festival/
À ne pas rater si vous planifiez des vacances dans ce secteur et à ces dates.
Article traduit de l'anglais à partir de celui publié récemment par www.halfwheel.com ! Thanks halfwheel.com!
Bonne dégustation!